Les spoilers du chapitre 1035 sont sortis, les voici :
Chapitre 1035 spoilers version VF : « Zoro Vs King »
Couverture du chapitre
Série de couvertures limitées, n° 25 : « Fuir l'île de Whole Cake ». Sur la couverture, on voit la flotte de Germa 66 quitter le territoire de Whole Cake Island.
Sanji vs Queen : la fin
Le chapitre commence là où le précédent s'est terminé, avec Sanji qui frappe Queen. L'attaque de Sanji a été si puissante que Queen a été soufflée du château de Kaidou et s'est envolée en dehors des limites d'Onigashima. Queen a perdu quelques dents et est complètement KO.
Sanji s'approche de Some, qui tremble de peur. Sanji tend ses mains et lui donne Chuuji. Some le remercie d'avoir sauvé Chuuji alors que Sanji se souvient de la souris qu'il a nourri quand il était enfant.
Sanji :  » Est-ce que…
tu… vas… bien… « 
Certains :  » Oh. « 
Lorsque Sanji essaie de s'inquiéter de l'état de Some, il tombe inconscient sur le sol. Certains appellent les autres geishas pour qu'elles apportent quelque chose pour aider Sanji.
[Tour du Dôme du Crâne de Leftbrain. « Combat de la salle des plaisirs »
Vainqueur : Sanji.]
Focus sur King vs Zoro
Le visage de King
Zoro est à genoux sur le sol après avoir attaqué King, cette fois Zoro a réussi à l'endommager puisque King saigne. L'attaque de Zoro a également coupé une autre partie du masque de King, nous pouvons maintenant voir son nez et sa bouche. Zoro a déjà compris comment fonctionne la flamme de King.
Zoro :  » Quand la « flamme sur son dos » disparaît…
Il se déplace beaucoup plus vite, mais… !!
Son pouvoir de défense est plus faible… !!! « 
Soudain, King arrache son masque et nous pouvons voir son visage entier pour la première fois. Il a la peau brune, un tatouage autour de l'œil gauche et de longs cheveux blancs (avec une tresse sur le côté droit). Les subordonnés de Kaïdou, qui sont encore affectés par la « Couleur du Haki du Roi Suprême » de Zoro, regardent King avec stupeur.
Les subordonnés de Kaïdou :  » Ah… Le masque de King… !!
Alors… les rumeurs…
Sont vraies… !!
Ailes noires, cheveux blancs… Peau brune.
Si nous le signalons au gouvernement, ils nous donneront 100 millions de berry… immédiatement. « 
King:  » … « 
Dans une page impressionnante (où nous voyons King en pied) King dégaine son épée et la recouvre de flammes. Puis il utilise une puissante attaque.
Les subordonnés de Kaidou :  » Non… C'est… « 
King :  » « Karyuudon » (Dragon de flammes impérial – 火龍皇 (かりゅうドン)) !!! « 
Les subordonnés:  » Gyaaaaaaah. « 
Une flamme en forme de dragon jaillit de l'épée de King et brûle les subordonnés de Kaidou. Zoro, qui est monté à l'extérieur du château par le trou dans le toit, parle à King.
Zoro :  » Tu devrais mieux t'occuper de tes subordonnés.
Quel genre de race êtes-vous pour que le gouvernement paie 100 millions de berry juste pour l'avoir informé de votre existence ? « 
King :  » …Pourquoi voudriez-vous savoir…Quand vous êtes sur le point de mourir de toute façon ! !! « 
Le combat
King se transforme en Pteranodon et vole jusqu'à l'endroit où se trouve Zoro (tout en tirant sur Zoro). Le combat continue à l'extérieur du château, King continue à tirer sur Zoro et l'attaque également avec ses ailes. Après quelques attaques, la bataille s'arrête.
Zoro :  » Hah… Hah…
Je n'ai plus beaucoup de temps…
Si le combat dure plus longtemps, mon épée peut me tuer ! !! « 
King :  » Je peux sentir cette dangereuse aura. « 
Zoro :  » Il semble qu'il appartienne à une race spéciale… Mais ça n'a pas d'importance…
Hah… Hah…
Vous êtes resté trop longtemps sur le siège, il est temps de vous écarter du chemin déjà.
« En-ou Santoryuu » (Style des trois épées du Roi des Enfers – 閻王三刀流 (えんおう さんとうりゅう)). « 
King :  » Ne t'avance pas trop…
Kaidou-san est celui qui deviendra le « Roi Pirate » ! !! « 
Flashback de King
Un flashback sur l'adolescent King commence, lors de sa rencontre avec Kaidou. Tous deux étaient prisonniers du centre Punk Hazard pendant que le gouvernement faisait des expériences sur eux. Kaidou réussit à s'échapper et il retrouve King qui était emprisonné dans une machine.
Kaidou : « Un « Lunarian » ? Le gouvernement ne te lâchera pas d'une semelle.
J'ai vu les expériences de résistance qu'ils ont faites sur toi.
J'ai l'intention de quitter cet endroit.
Je vais créer un nouvel équipage pirate ! !
Que ferez-vous ? Cobaye. « 
King:  » Pensez-vous que vous êtes capable de changer le monde ? « 
Kaidou :  » Bien sûr, je suis le seul à pouvoir le faire ! !! « 
Ensuite, Kaïdou libère King et les deux s'échappent en détruisant l'installation Punk Hazard.
Kaidou :  » Quel est ton nom ? « 
King :  » Arbel*. « 
*Note de traduction : le nom japonais est  » アルベル  » qui a différentes romanisations (Arbel/Aluber/Arbert/Alubel…).
Kaidou :  » Tu es fort garçon, tu peux t'appeler « Roi » ! !!
Viens avec moi !
A partir de maintenant, tu seras mon bras droit ! !!
Worororororo ! ! « 
King vs Zoro : la fin
Retour au présent
Zoro attaque King.
Zoro :  » « Rengoku Oni Giri » !!! « 
King esquive l'attaque de Zoro et contre-attaque.
King :  » « Karyuudon » (Dragon Flamme Impériale) !!! « 
Zoro :  » Ces flammes sont comme du magma !!! « 
Zoro esquive le dragon de feu mais King l'attaque avec son épée. Puis, parvient à la bloquer mais King active le mécanisme de l'épée et attrape 3 épées de Zoro.
Zoro :  » Je ne te laisserai pas prendre ces « Meitou » !!! « 
Zoro parvient à libérer ses épées et s'éloigne de King. Cependant, Zoro ne peut pas voir où est King car il se déplace à grande vitesse.
Zoro : « Il utilise sa vitesse !!! Alors…je dois attaquer !!
« Yakkoudori » (Danse des oiseaux) !!! « 
Zoro parvient à esquiver le coup de pied à grande vitesse de King et contre-attaque en coupant le torse de King verticalement. King saigne. Zoro profite de la situation et continue d'attaquer King.
King :  » Tu as donc compris le fonctionnement de mon corps !!! « 
Zoro :  » C'est vrai… !! Je vais te vaincre !! « 
Même si la flamme de King est en feu, King se défend maintenant contre les attaques de Zoro.
Zoro : « Pourquoi ne reçois-tu pas mes attaques… Si par hasard elles ne fonctionnent pas contre toi !? « 
Tu as peur ? Que je puisse te faire du mal… !! « 
King s'envole loin de Zoro, puis il se transforme en Ptéranodon.
King :  » Ton espèce ne pourra jamais me vaincre !!! Fufufu. « 
Zoro :  » C'est le genre d'excuse que je déteste le plus !!! « 
King:  » …Je me souviendrai de toi comme d'un épéiste avec un talent considérable. « 
Zoro :  » Non. Je serai celui qui te fera te souvenir de moi si tu arrives à survivre à ça !! « 
Double page
King :  » « Oomori Karyuudon » (Dragon Gardien de la Flamme Impériale – 御守 火龍皇 (おおもり かりゅうどん)) !!! « 
King crée une version plus grande et plus puissante de son dragon de flamme pour attaquer Zoro.
Zoro :  » « En-ou SANTORYUU* » (Roi des Enfers, Epées des Trois Dragons – 閻王三刀龍 (えんおう さんとうりゅう)). « 
« Ippyaku Sanjou Hiryuu Jigoku » (130 Feelings, Flying Dragon Extreme Samurai – 一百三情飛龍侍極 (いっぴゃく さんじょう ひりゅうじごく)) ! !! « 
*Note de traduction : Cette fois,  » Santoryuu  » est écrit avec le kanji  » dragon  » (龍) au lieu du kanji  » style  » (流). Nous ne savons pas si c'est une faute de frappe ou si le nom est correct.
Dans une double page impressionnate, Zoro utilise une technique similaire à son « Hiryuu Kaen » (mais en utilisant ses 3 épées en même temps) pour attaquer King. Cette double page est presque la même que celle que nous pouvons voir lorsque Ryuma tue le dragon dans l'histoire « Monsters » du volume spécial « Wanted !
Zoro coupe en deux le dragon de flammes géant créé par King (qui est choqué de le voir). Puis Zoro attaque King de plein fouet avec une coupe très puissante dans son torse, créant des éclairs noirs.
L'attaque de Zoro est si puissante, qu'il coupe l'épée de King en deux parties et coupe l'aile droite de King en deux…
Fin du chapitre. Pause la semaine prochaine.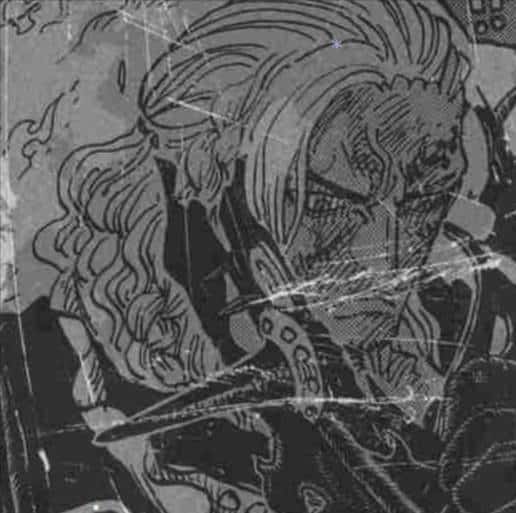 Quel est le secret de la tribu Lunaria ? Pourquoi sont-ils si importants aux yeux du gouvernement ? Laissez votre avis en commentaire ou consultez notre dernière théorie : L'histoire de Kuma – [Théorie]
Version US : « King Vs. Zoro »
Chapter cover
Limited Cover Series, No. 25: "Running away from Whole Cake Island". In the cover, we see Germa 66's fleet leaving Whole Cake Island territory.
Sanji vs Queen : the end
Chapter starts where the previous one ended, with Sanji kicking Queen. Sanji attack has been so powerful that Queen is blown away of Kaidou's castle and flies outside the limits of Onigashima. Queen has lost some teeth and is completely KO.
Sanji approaches to Some, who is shaking in fear. Sanji extends his hands and give her Chuuji. Some thanks him for saving Chuuji as Sanji remembers the mouse he fed when he was a child.
Sanji: « Are…
you… fine… »
Some: « Oh. »
When Sanji tries to worry about Some's condition, he falls unconscious to the ground. Some calls the other geisha to bring something to help Sanji.
[Leftbrain Tower of the Skull Dome. "Pleasure Hall's battle"
Winner: Sanji.]
Focus on King vs Zoro
King's face
Cut to the battle between Zoro and King. Zoro is kneeling on the ground after attacking King, this time Zoro has managed to damage him since King bleeds. Zoro's attack also cut another part of King's mask, we can see now his nose and his mouth. Zoro has already figured out how King's flame works.
Zoro: « When the "flame on his back" disappears…
He moves much faster, but…!!
His defense power is weaker…!!! »
Suddenly, King rips his mask off and we can see his whole face for the first time. He has brown skin, a tattoo around his left eye, and long white hair (with a braid on the right side). Kaidou's subordinates, who are still affected by Zoro's "Color of the Supreme King Haki", stare at King in shock.
Kaidou's subordinates: « Ah… King's mask…!!
So… the rumors…
Are true…!!
Black wings, white hair… Brown skin.
If we notify it the Government, they will give us "100 million Berries"… Instantly. « 
King: « … »
In an impressive page (where we see King in full length) King draws his sword and covers it with flames. Then he uses a powerful attack.
Kaidou's subordinates: « No… That is… »
King: « "Karyuudon" (Imperial Flame Dragon – 火龍皇 (かりゅうドン))!!! »
Kaidou's subordinates: « Gyaaaaaaah. »
A dragon-shaped flame (the same type of dragon that Kaidou and Momonosuke) shoots out from King's sword and burns down Kaidou's subordinates. Zoro, who has climbed to the outside of the castle through the hole in the roof, talks to King.
Zoro: « You should take better care of your subordinates.
What kind of race are you that the Government would pay 100 million
to anyone just for notifying them about you? »
King: « …
Why would you want to know…
When you're about to die soon anyway!! »
The fight
King transforms into a Pteranodon and flies over to where Zoro is (while he shoots Zoro). Battle continues outside the castle, King continues shooting Zoro and also attacks him with his wings. After some attacks, the battle stops.
Zoro: « Hah… Hah…
I don't have much time…
If the fight lasts any longer, my sword can kill me!! »
King: « I can sense that dangerous aura. »
Zoro: « It seems that he belongs to a special race… But that doesn't matter…
Hah… Hah…
You have been on the seat for too long, it's time to move out of the way already.
"En-ou Santoryuu" (King of Hell's Three Swords Style – 閻王三刀流 (えんおう さんとうりゅう)). »
King: « Don't get ahead of yourself…
Kaidou-san is the one who will become the "Pirate King"!! »
King's Flashback
A little flashback about teenager King begins, it takes place when he met Kaidou. Both were prisoners in Punk Hazard facility while Government experimented with them. Kaidou manages to escape and he finds King that was imprisoned in a machine.
Kaidou: « A "Lunarian"? The Government will never get their hands off you.
I've seen the resistance experiment they did with you.
I plan to leave this place.
I'm going to create a new pirate crew!!
What will you do? Guinea pig. »
King: « Do you think you are capable to change the world? »
Kaidou: « Of course, I'm the only one that can do it!!! »
Then, Kaidou frees King and the two escape while destroy Punk Hazard facility.
Kaidou: « What is your name? »
King: « Arbel*. »
*Translation note: Japanese name is "アルベル" which has different romanizations (Arbel/Aluber/Arbert/Alubel…).
Kaidou: « You are strong boy, you can call yourself "King"!!
Come with me!!
From now on, you will be my right hand!!
Worororororo!! »
King vs Zoro : the end
Back to the present
Zoro attacks King.
Zoro: « "Rengoku Oni Giri"!!! »
King dodges Zoro's attack and counterattacks.
King: « "Karyuudon" (Imperial Flame Dragon)!!! »
Zoro: « These flames are like magma!! »
Zoro dodges the fire dragon but King attacks him with his sword. Then, manages to block it but King activates the sword's mechanism and grabs 3 Zoro's swords.
Zoro: « I won't let you take these "Meitou"!!! »
Zoro manages to free his swords and steps away from King. However, Zoro can't see where's King because he's moving at high speed.
Zoro: « He's using his speed!!
So…I must attack!!
"Yakkoudori" (Bird Dance)!!! »
Zoro manages to dodge King's high-speed kick and counterattacks cutting King's torso vertically. King bleeds. Zoro takes advantage of the situation and keeps attacking King.
King: « So you understood the way my body works!! »
Zoro: « That's right…!! Did you finally realize!? I'm going to defeat you!! »
Even though King's flame is on fire, King now defends himself against Zoro's attacks.
Zoro: « Why don't you receive my attacks… If presumably they don't work against you!? »
Are you afraid? That I can hurt you…!! »
King flies away from Zoro, then he transforms into a Pteranodon.
King: « As a being, your kind (human) can never defeat me!!
Fufufu. »
Zoro: « That's the kind of excuse I hate the most!! »
King: « …I will remember you as swordman with considerable skill. »
Zoro: « No. I will be the one to make YOU remember me if you manage to survive this!! »
Double-page
King: « "Oomori Karyuudon" (Imperial Flame Guardian Dragon – 御守 火龍皇 (おおもり かりゅうどん))!!! »
King creates a larger and more powerful version of his flame dragon to attack Zoro.
Zoro: « "En-ou SANTORYUU*" (King of Hell, Three Dragons Swords – 閻王三刀龍 (えんおう さんとうりゅう)). »
"Ippyaku Sanjou Hiryuu Jigoku" (130 Feelings, Flying Dragon Extreme Samurai – 一百三情飛龍侍極 (いっぴゃく さんじょう ひりゅうじごく))!!! »
*Translation note: This time, "Santoryuu" is written with "dragon" kanji (龍) instead of "style" kanji (流). We don't know if it's a typo or the name is correct.
In an AMAZING double page, Zoro uses a technique similar to his "Hiryuu Kaen" (but using his 3 swords at the same time) to attack King. This double page is almost the same as the one we can see when Ryuma kills the dragon in the story "Monsters" from "Wanted!" special Volume.
Zoro cuts in half the giant flame dragon created by King (who is shocked to see it). Then Zoro attacks King squarely with a very powerful cut in his torso, creating some black lightings.
Zoro's attack is so powerful, that he cuts King's sword in two parts and slices King's right wing in half…
End of chapter. Jump break next week.
What is the secret of the Lunaria tribe? Why are they so important to the government? Leave your opinion in the comments or check out our latest theory: The Story of Kuma – [Theory]