Les spoilers du chapitre 1034 sont sortis, les voici :
Chapitre 1034 spoilers version VF : « Sanji contre Queen »
Couverture du chapitre
Dans la couverture, Usopp joue au tir au fusil dans un festival de visons et donne le prix à des enfants (un an de jus gratuit). Usopp (qui porte un masque sur le côté de son visage) a tiré avec le fusil de chasse en tournant le dos et à une grande distance.
Salle des plaisirs – Osome
Le chapitre commence dans la « salle des plaisirs », dans la tour Leftbrain du Dôme du Crâne. Nous pouvons voir que des explosions ont lieu partout. Les geishas fuient l'endroit mais Osome (la fille « blessée » par Sanji) ne veut pas partir sans son animal Chuji. Les autres geishas lui disent qu'elles sont sûres que Chuji va bien et que si c'était possible, elles quitteraient cette île et fuiraient Wanokuni (mais elles ne peuvent pas).
Momonosuke
Nous passons ensuite à Momonosuke, qui saisit les « Nuages de flamme » (Homuragumo).
Momonosuke : « C'est une bonne idée ! !! C'est une bonne idée !! Après tout, je suis un dragon comme lui !! Je peux les attraper ! Les « Nuages de flammes » de Kaido ! !! Si je ne peux pas repousser l'île ! Je peux au moins l'arrêter ! Ainsi nous pourrons éviter la pire des situations ! Je ne la laisserai pas tomber sur la « Capitale des Fleurs » !
Dans le « Live Floor », nous voyons que les Bêtes-Pirates veulent quitter le château mais les samouraïs les en empêchent.
Queen vs Sanji
La science du Germa et Queen
Retour à la « Salle des Plaisirs » dans la Tour du Dôme du Crâne. Queen attaque Sanji.
Queen : «  »Sparking QUEEN » (火花 QUEEN (スパーキング クイーン) !!! »
Ensuite, Queen tire un rayon laser depuis ses yeux. Sanji saute et l'esquive en se souvenant de « Sparking Valkyrie » d'Ichiji. Queen attaque à nouveau.
Queen : «  »Henry QUEEN » (起電 QUEEN (ヘンリー クイーン) !!! »
Sanji : « Woaaaaa ! !! »
Queen couvre son corps d'électricité puis tend le cou pour attraper Sanji. Puis il envoie à Sanji une puissante décharge électrique. Alors qu'il est attaqué, Sanji se souvient du « Henry Blazer » de Niji. Sanji tombe au sol.
Queen : « Muhahahahaha !! Vous comprenez maintenant !? Ce sont les techniques de « Germa 66″ !! J'avais en fait l'intention de les révéler après que tu aies mis ton costume ! Les enfants de Judge sont l'apogée de leurs capacités ! »
Queen continue de tirer des rayons laser de ses yeux sur Sanji, qui les esquive du mieux qu'il peut.
Queen : « Si je peux te vaincre pendant que tu utilises ton costume… Je le prouverai à Juge !! Que je suis un scientifique supérieur à lui !!! »
Queen étend son bras gauche avec le même mécanisme que celui utilisé par Yonji. Puis il attrape Sanji.
Queen : « Il y a quelque temps, je faisais l'idiot. En fait, je connais la « Germa Science » ! !! J'ai fait toutes sortes de recherches à ce sujet !!! »
Sanji : « Posez-moi !! »
Queen : « Toutes les capacités de vos frères peuvent être répliquées !! »
Sanji : « Ne les traitez pas comme s'ils étaient de ma famille… !! »
Alors qu'il est piégé, Sanji se souvient de « Winch Danton » de Yonji. Queen commence à tourner.
Queen : «  »Winch QUEEN » (巻力 QUEEN (ウインチ クイーン) !!! »
Sanji : « Ahhhh~~~ !!! »
Sanji réplique
Queen fait s'écraser Sanji contre les murs et les portes à grande vitesse alors qu'il tourne sur lui-même. Les coups font saigner Sanji. Cependant, Sanji utilise un coup de pied enflammé et détruit le bras de Queen (Sanji casse le câble qui relie la griffe de Queen au reste de son bras).
Queen : « Ahhhhh !!! Ma main ~~~~~~ !!! »
Sanji : « Hah… Hah… »
Queen : « Sale gosse~~~ !!! »
Sanji : « Laisse-moi te donner un conseil… !! Ne prononce pas le nom de ce type devant moi… !! « Flanchet Strike » !!! »
Queen : « Guoh~~~ !!! »
Sanji frappe l'estomac de Queen avec un puissant coup de pied qui le fait saigner de la bouche.
Sanji : « Regardez !! C'est pas possible que mes coups de pied ne marchent pas avec toi !!! Tu t'affaiblis aussi !! »
Queen : « ……… !! »
Sanji : « J'ai déjà accepté mon « destin » !!!
Soudain, Queen rit et devient invisible. Sanji est étonné.
Queen : « Le prochain est ta propre capacité. « Black Stealth » !! »
Sanji : « Tu peux faire ça aussi ? »
Sanji disparaît aussi, bien que ce ne soit pas grâce à l'invisibilité. Queen est choquée.
Queen : « Quoi~~~~~~ !!! Il a encore disparu !! Il ne porte pas de costume !! Donc il a disparu parce qu'il se déplace à « grande vitesse » !! Quand il réapparaîtra, il aura déjà utilisé des tonnes d'énergie… !! Stupide. »
Osome et Queen
Soudain, une petite souris entre dans la pièce où se trouvent Sanji et Queen (mais comme ils sont tous les deux « invisibles », il semble qu'il n'y ait personne dans la pièce). Nous voyons qu'Osome se cache dans les décombres et elle voit la souris.
Osome : « C'est Chuji !! Elle est en sécurité !! »
Osome sort des décombres et va chercher Chuji.
Osome : « Dépêche-toi Chuji ! Je ne sais pas quand ils vont se battre à nouveau. »
Queen n'a pas bougé de la pièce, il peut donc voir Osome.
Queen : « Osome ! Est-elle encore capable de bouger ? Elle a rejeté mes propositions des dizaines de fois. Même aujourd'hui, il m'a rejeté aussi ! Après la mort de Komurasaki, tu es le numéro 1 pour moi maintenant ! Tu m'as toujours rejeté en disant que tu étais malade. Mais maintenant je peux voir que tu es en parfaite santé ! »
Queen se rapproche d'Osome petit à petit.
Queen : « Alors CETTE « punition céleste » n'était pas suffisante pour toi ? Alors je vais t'en donner un autre ! »
Queen vs Sanji partie 2
Sanji vole dans les airs et parvient à voir Queen s'approcher de la jeune fille. Ensuirz, Sanji se prépare à attaquer Queen.
Sanji : «  »Exosquelette », « force », « vitesse ». Tous ces éléments sont combinés. Le « Haki de l'armement  » que j'ai entraîné, est combiné avec l' »exosquelette » aussi… Et maintenant mes jambes sont beaucoup plus fortes et peuvent résister à une chaleur plus importante qu'avant !!! »
Nous voyons que la jambe de Sanji brille plus fort et que sa jambe est plus résistante.
Que pensez-vous de ce chapitre 1034 ? Le nouveau corps de Sanji va-t-il lui permettre de battre facilement Queen ? Ou va-t-il avoir besoin d'un nouveau power-up ? Et qu'en est-il de Zoro à votre avis ?
Laissez un commentaire ou consultez notre dernière théorie : Yamato prochain mugiwara ? [Théorie]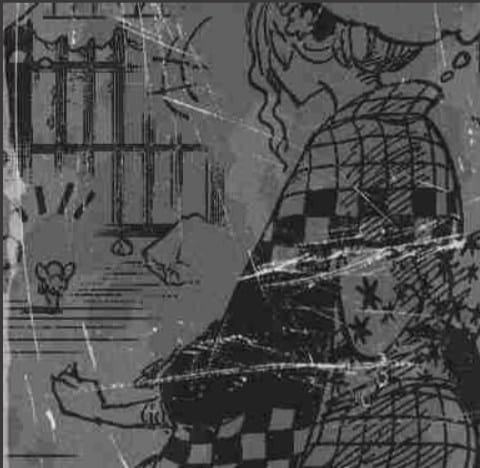 Version US : « Sanji Vs. Queen »
Chapter cover
In the cover, Usopp is playing shotgun at a mink festival and giving the prize to some kids (a year's worth of free juice). Usopp (wearing a mask on the side of his face) fired the shotgun with his back turned and from a great distance.
Pleasure Room – Osome
The chapter begins in the « pleasure room » in the Leftbrain tower of the Skull Dome. We can see that there are explosions everywhere. The geishas flee the place but Osome (the girl « wounded » by Sanji) does not want to leave without her pet Chuji. The other geishas tell her that they are sure that Chuji is ok and that if it was possible, they would leave this island and run away from Wanokuni (but they can't).
Momonosuke
Then we go to Momonosuke, who grabs the « Flame Clouds » (Homuragumo).
Momonosuke: « That's a good idea!!! That's a good idea!!! After all, I'm a dragon like him! I can catch them! Kaido's « Clouds of Flame »!!! If I can't push the island back! I can at least stop it! So we can avoid the worst situation! I won't let it fall on the « Capital of Flowers »!
In the « Live Floor », we see that the Pirate-Beasts want to leave the castle but the samurais stop them.
Queen vs Sanji
The science of Germa and Queen
Back to the « Pleasure Room » in the Skull Dome Tower. Queen attacks Sanji.
Queen: «  »Sparking QUEEN » (火花 QUEEN (スパーキング クイーン)!!! »
Then Queen shoots a laser beam from her eyes. Sanji jumps and dodges it remembering Ichiji's « Sparking Valkyrie ». Queen attacks again.
Queen: «  »Henry QUEEN » (起電 QUEEN (ヘンリー クイーン)!!! »
Sanji: « Woaaaaa!!! »
Queen covers his body with electricity then reaches out his neck to grab Sanji. Then he sends Sanji a powerful electric shock. As he is attacked, Sanji remembers Niji's « Henry Blazer ». Sanji falls to the ground.
Queen :  » Muhahahaha ! Do you understand now? These are the techniques of « Germa 66″!!! I was actually planning to reveal them after you put on your costume! Judge's kids are the height of their abilities! »
Queen continues to shoot laser beams from her eyes at Sanji, who dodges them as best he can.
Queen: « If I can defeat you while you're using your costume… I'll prove it to Judge!!! That I am a superior scientist to him!!! »
Queen extends his left arm with the same mechanism that Yonji used. Then he grabs Sanji.
Queen: « Some time ago, I was fooling around. Actually, I know the « Germa Science »! !! I've done all kinds of research about it!!! »
Sanji: « Put me down!!! »
Queen: « All your brothers' abilities can be replicated!!! »
Sanji: « Don't treat them like they are my family…!! »
While trapped, Sanji remembers « Winch Danton » from Yonji. Queen begins to spin.
Queen: « "Winch QUEEN" (巻力 QUEEN (ウインチ クイーン)!!! »
Sanji: « Ahhhh~~~!!! »
Sanji counter-attacks
Queen makes Sanji crash with walls and doors at high speed as he spins around. Hits make Sanji bleed. However, Sanji uses a flaming kick and destroys Queen's arm (Sanji breaks the cable that connects Queen's claw to the rest of his arm).
Queen: « Ahhhh!!! My hand ~~~~~~!!! »
Sanji: « Hah… Hah… »
Queen: « Damn brat~~~!!! »
Sanji: « Let me give you some advice…!! Don't say the name of THAT GUYS in front of me…!! "Flanchet Strike"!!! »
Queen: « Guoh~~~!!! »
Sanji hits Queen's stomach with a powerful kick that makes him bleed from his mouth.
Sanji: « Look!! There's no way my kicks don't work with you!! You're weakening too!! »
Queen: « ………!! »
Sanji: « I've already accepted my "destiny"!!
Suddenly, Queen laughs and turns invisible. Sanji is astonished.
Queen: « Next one is your own ability. "Stealth Black"!! »
Sanji: « Can you do that too? »
Sanji also disappears, although it's not thanks to the invisibility. Queen is shocked.
Queen: « What~~~~~~!!! He disappeared again!! He's not wearing any suit!! So he has disappeared because he's moving at "high-speed"!! When he reappears, he would've used tons of energy already…!! Stupid. »
Osome and Queen
Suddenly, a little mouse enters the room where Sanji and Queen are (but since they are both « invisible », it seems that there is nobody in the room). We see that Osome is hiding in the rubble and she sees the mouse.
Osome: « It's Chuji! She's safe!!! »
Osome comes out of the rubble and goes to find Chuji.
Osome: « Hurry up Chuji! I don't know when they will fight again. »
Queen hasn't moved from the room, so he can see Osome.
Queen: « Osome! Is she still able to move? She has rejected my proposals dozens of times. Even today, he rejected me too! After Komurasaki's death, you're number one for me now! You always rejected me saying you were sick. But now I can see that you are perfectly healthy! »
Queen gets closer to Osome little by little.
Queen: « So THAT « heavenly punishment » wasn't enough for you? Then I'll give you another one! »
Queen vs Sanji part 2
Sanji flies in the air and manages to see Queen approaching the girl. Ensuirz, Sanji prepares to attack Queen.
Sanji: «  »Exoskeleton », « strength », « speed ». All these elements are combined. The « Weapon Haki » that I trained, is combined with the « exoskeleton » too… And now my legs are much stronger and can withstand more heat than before!!! »
We see that Sanji's leg shines brighter and his leg is stronger.
Break next week
What do you think of this chapter 1034? Will Sanji's new body allow him to easily beat Queen? Or will he need a new power-up? And what about Zoro in your opinion?
Leave a comment or check out our latest theory: Yamato next mugiwara? [Theory]