Les spoilers du chapitre 1022 sont sortis, les voici :
Spoils chapitre 1022 version française
La défaite des Tobiroppo est annoncée à tout Onigashima.
Il reste 15 minutes avant que Onigashima n'atterrisse à Wanokuni.
Raizo contre Fukurokuju.
Killer contre Hawkins.
Hawkins a lié ses pouvoirs au Kid (s'il est blessé / tué, le Kid sera blessé / tué).
Sanji contre King & Queen. Sanji dit qu'il est difficile de s'occuper des deux en même temps.
Nekomamushi attaque Perospero, qui essayait d'attaquer Sanji avec sa Flèche de bonbon.
Marco bloque une attaque de King dirigée vers Zoro.
Marco dit à King qu'il a entendu dire il y a longtemps qu'il y avait une race capable de créer / manipuler le feu qui vivait sur la Ligne Rouge.
Zoro récupère.
A la fin du chapitre, Zoro et Sanji attaquent le Roi et la Reine dans une double page impressionnante.
Zoro : Si nous gagnons cette bataille…
Sanji : Oui, nous serons plus près de…
Zoro et Sanji : Luffy devenant le Roi des Pirates.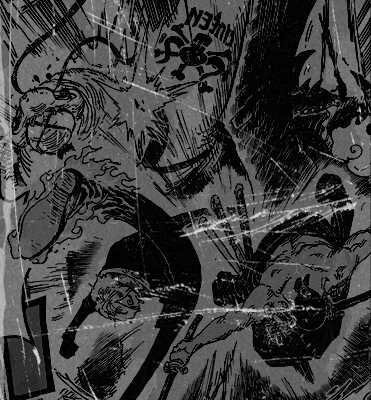 Spoils version US
– The defeat of Tobiroppo is announced to all Onigashima.
– There are 15 minutes until Onigashima lands in Wanokuni.
– Raizo Vs. Fukurokuju.
– Killer Vs. Hawkins.
– Hawkins has linked his powers to Kid (if he is harmed / killed, Kid will be harmed / killed).
– Sanji Vs. King & Queen. Sanji says that it is difficult to deal with both at the same time.
– Nekomamushi attacks Perospero, who was trying to attack Sanji with his Candy Arrow.
– Marco blocks an attack from King directed towards Zoro.

– Marco tells King that he heard a long time ago that there was a race capable of creating / manipulating fire that lived on the Red Line.

– Zoro recovers.

– At the end of the chapter, Zoro and Sanji attack King and Queen in an impressive double page.
Zoro: If we win this battle …
Sanji: Yes, we'll be closer to …
Zoro and Sanji: Luffy becoming the King of the Pirates.
Que pensez-vous de ces spoils du chapitre 1022 ? Pensez-vous que Zoro et Sanji ont vaincu King et Queen ? Vont-ils les combattre en duo ? Allons-nous assister à un nouveau power-up du monster trio ?
Laissez un commentaire pour partager votre avis ou consulter notre plus récente théorie : La théorie du parallélisme – Les similitudes des arcs