Les spoilers du chapitre 1025 sont sortis, les voici :
Chapitre 1025 spoilers version VF : "Image du Double Dragon".
Titre-  » Image du Double Dragon  » (C'est lié aux  » Dragons jumeaux  » de Koizumi Junsaku dans le temple Kennin-ji de Higashiyama (Kioto). Oda s'y est rendu il y a quelques années)
Momonosuke ne peut pas voler facilement car il a peur des hauteurs. Alors, Luffy pousse Momonosuke à le faire.
Nous voyons Kaido vs Yamato continuer.
Momonosuke vole les yeux fermés, il ne peut donc pas aller directement sur le toit. Il se précipite sur le toit en donnant un coup de tête sur le dôme d'Onigashima.
Luffy en snakeman attaque avec le Gear 4 : Jet Culverin et Yamato attaque aussi, tous deux en même temps contre Kaido.
Momonosuke et Kaido finissent par se faire face sous la forme de dragons (comme sur l'image).
PAUSE LA SEMAINE PROCHAINE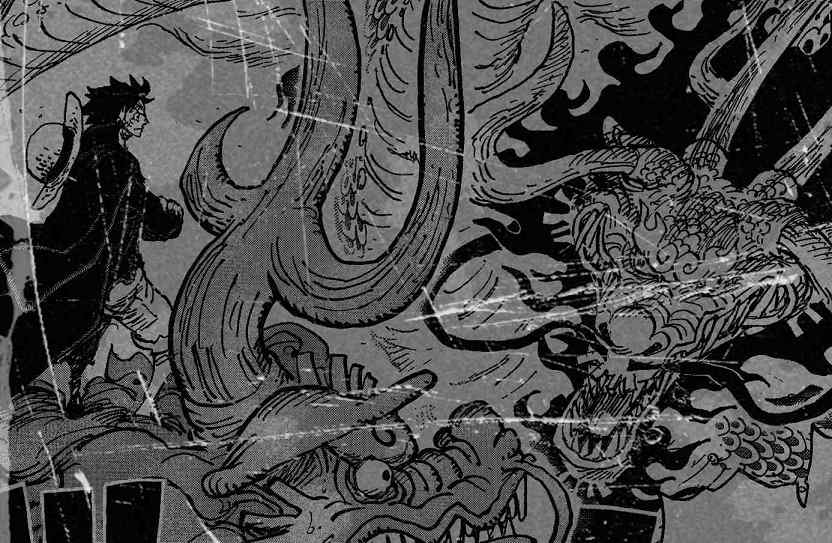 Version US : chapter 1,025: "Image of the Double Dragon".
Title-  » Image of the Double Dragon «  (It's related with Koizumi Junsaku's « Twin Dragons » in Kennin-ji temple from Higashiyama (Kioto). Oda visited there a few years ago)
Momonosuke can't fly easily because he is scared of heights. So, Luffy pushes Momonosuke to do it.
We see Kaido vs Yamato continuing.
Momonosuke is flying with his eyes closed, so he can't directly go to the roof. He rushes to the roof by headbutting Onigashima's dome.
Luffy in snakeman attacks with Gear 4: Jet Culverin and Yamato attacks too, both at the same time against Kaido.
Momonosuke and Kaido end up facing each other in the form of dragons (like in the image).
BREAK NEXT WEEK
Que pensez-vous de ces spoils du chapitre 1025 ? Allons-nous vraiment assister à un 3 contre 1 ? Kaido sera-t-il rejoint par un de ses alliés ? Est–ce le comabt final contre l'empereur et tyran de Wano ?
Laissez un commentaire pour partager votre avis ou consulter notre plus récente théorie : La théorie des nombres des fruits du démon